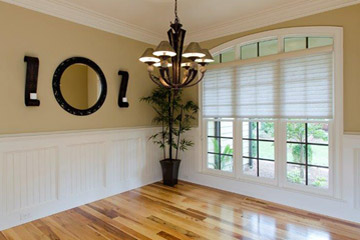 We all work hard. When the day is done, we want to go home and relax in a space that alleviates the stresses of the day.
While all aspects of interior design is about making that feeling last, window treatments of all types whether blinds, shutters or drapery are an integral part of creating a finished sense that a space is complete. They should help allow design elements to flow seamlessly.
While we generally advise our clients to get the blinds and shutters they like, we also recommend that they consider the longevity of what they're purchasing. Styles that are "trendy" and "fashion forward" today can quickly become dated.
Unless you are planning to redo the interior of your home every few years which in my years of experience is the exception rather than the rule, it's better to go with more classic elements that will look good for a long time to come. In other words, window treatment interior design doesn't change as much as people think it does. It's generally too expensive to change all the time. And we feel that if you do it right, you shouldn't feel the need to.
For example, only recently, people were opting for big valances and swags over windows, but the trend now is for a leaner, cleaner look.
We have found that changes that do happen are often for convenience—for example to help transform the look and feel of new uses for a space, or something major like moving to a new home or office space altogether.
And, after all the practical factors are taken into consideration, we also recognize getting window treatments go beyond just putting elements together in a space. We know that following our instincts to find what the best fit is needs to be a part of any final choice. The totality of all this that allows for a sense of satisfaction and fulfillment – feeling "at home.