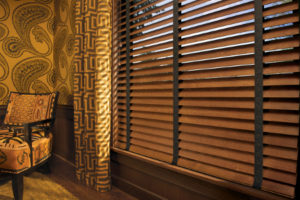 Looking for window blinds brands in Durham, Chapel Hill, or Raleigh?
The typical 21st century American consumer values choice and variety. Once upon a time, not too long ago, there were only a few brands of toothpaste to choose from. Today, every grocery store and drugstore has an entire aisle dedicated to toothpaste in a variety of brands, types, flavors, and sizes. We have come to expect choice and variety when we shop. And window treatments are no exception to this rule.
When it comes to choosing the right window treatments for your home, obviously, the first consideration is window shape and size. But beyond that, there is light control, style, color, cost, and energy saving benefits to consider. Fortunately, we carry 4 of the top window blinds brands to fit every homeowner's unique preferences and we're happy to offer our expert advice all about blinds, as you decide on blinds and shades you'll love.
We know you have a lot of options when it comes to shopping the window designs Durham, NC has to offer, so let's explore the distinctive features of each brand to better understand why we believe these are the best window blinds manufacturers. We offer these window blinds because our satisfied customers return to buy from us again and again.
The Best Window Blinds Brands
Hunter Douglas Blinds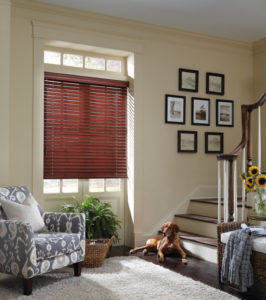 Hunter Douglas is the innovator of window coverings. This trusted name brand prides itself on offering quality window treatments where form and function are inseparable. Hunter Douglas offers beautiful design with variable light control, insulation and energy saving materials, and a lifetime warranty. These blinds also come in a wide array of colors and textures.
When cost is not a factor, Hunter Douglas is the window treatment favored by our high end clients. Hunter Douglas offers corded blinds, as well as motorized blinds to integrate with your home entertainment system. Want to watch a film in movie-theater-like darkness, in the middle of a bright Saturday afternoon? No problem. Hunter Douglas offers blackout shades that can be programmed to descend when you press play. Hunter Douglas vertical blinds are another great option for sliding glass doors, large picture windows, or home office blinds. Protect your furniture from harmful UV rays with window treatments that double as works of art.
Additionally, as a trusted name brand, Hunter Douglas makes shopping online quick and easy and offer the best online blinds and shades. Customers love that they can search products and features from the comfort of their homes using Hunter Douglas's custom application system. As an Alliance Dealer, we can give you access to login and select from a wide range of Hunter Douglas window blinds.
Norman Window Fashions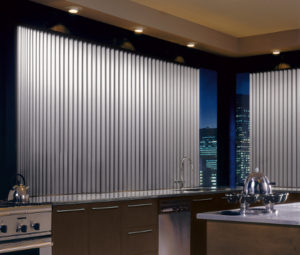 For the more budget conscious, Norman window blinds are an excellent option. If you are looking to give your home a fresh look without all the bells and whistles or cutting edge technology, Norman has you covered. Norman offers "smart privacy" technology, which is an easy solution to ensure maximum privacy, while blocking out intense UV rays and heat.
Norman budget window blinds come in the Essentials and Premium series (faux wood) with 2" or 2.5" slats. Search the internet and you'll find they get the best faux wood blinds reviews. Or you can choose the Normandy series (wood blinds) also with 2" or 2.5" slats. For an easy everyday window treatment ideal for the kitchen or bathroom, Norman also carries aluminum blinds with 1" or ½" slats. The ½" slats tend to be most popular giving homes a more contemporary feel. But those who prefer an older-style that is reminiscent of Venetian blinds, often choose to go with the 2" slats. You will find all Norman's blinds wonderfully adjustable to allow just the right amount of light.
Vista Products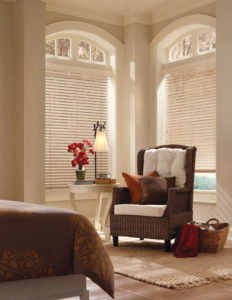 Vista Products is another brand we carry offering amazing blinds designed to fit your home and lifestyle. Owned by Hunter Douglas and manufactured right here in North Carolina, Vista Products is one of the industry leaders with an expansive variety of window treatments in faux wood, wood, and aluminum perfect for any room in your home.
If you're looking for just the right window covering for your kitchen, Vista Products has some great options. A long time favorite, kitchen roller blinds feature a pop of color and a streamlined appearance. They are also an excellent foundation for layering in window coverings such as fabric curtains. These roller blinds give you the ability to control light, temperature, and glare any time of the day or night.
Vista also offers some of the Hunter Douglas products at a budget price with slight variations in operation. Warranties on these products vary, so be sure to check carefully based on your expectations. We would be happy to visit your home to discuss your needs, take measurements, and offer you a custom quote. We stand by our budget blinds prices. We can also help you understand just how all the window blinds brands compare.
Bali/Graber Window Blinds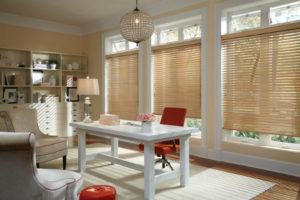 Owned by Spring Window Fashions, this brand comes highly recommended for commercial clients, especially those in need of aluminum mini-blinds for their offices. Remember that how you choose to decorate your office is all about how you want your clients to perceive you and your business.
Bali/Graber aluminum mini-blinds work well for many contractors and service-based businesses. But if you are in a field where you need to project a softer, more comfortable image, then you will want something a bit more cozy. Fortunately, Bali also offers a variety of fashionable, classic window coverings. Roll up shades are a popular choice for professionals. Make a bold statement with bright colors or choose a subtle pattern to add character and complement the solid colors of your furniture. Either way, window treatments are the perfect way to set the right mood in your office. And of the window blinds brands we carry, you'll be able to find just that; the perfect window blinds.
Window Blinds Brands: More Than an Expression of Personal Style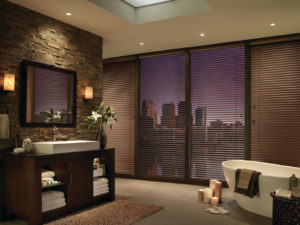 Your choice in window treatments is more than another way to express your personal style. It is an investment in the life of your home. Yes, we have products to fit every budget, but we know real value goes beyond price. That's why we're here for our customers even after purchase with answers to some common questions.
After you've chosen your window treatments, you may wonder how to install blinds for best results. If you're handy with a drill (or happen to have a friend or son-in-law who is), there are lots of instructional videos available online to make hanging your blinds yourself easy. Fitted blinds can be a challenge to install because the brackets go on the inside of window frames and lining up those brackets can be tricky. The right tools can make all the difference with installations like this. We are happy to provide installation in your home for an additional fee. After choosing one of the window blinds brands we carry and then the right window blinds, you will want your new window treatment to be installed properly so consider letting a professional do it.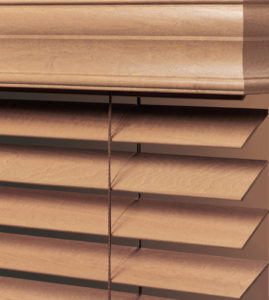 Once your blinds are installed, you may also wonder whether you should change the paint color of your rooms to complement your new blinds. Well, this is entirely up to you and your sense of style, but we always recommend that if customers anticipate wanting to change paint colors more often than the life of their window treatments, they choose blinds in a neutral color. This will give them the most options when it comes to changing other room accessories over the years.
If you're wondering where to buy blinds, All About Blinds & Shutters is the right place. Check out our huge selection of blinds and find out why our products are the window treatments Chapel Hill, Durham, and Raleigh, NC homeowners prefer. Call us at 919-544-6092 for your free custom quote. We have window blinds brands to fit every home and every homeowner's personal tastes.